100% Online Experience
Shop Our
Express Store
Instant Pricing - No Hassle - Build Your Deal Online
Take Advantage of This Month's Current Offers
Ford Blue Advantage: Confidence at Every Turn
Experience the benefits of Ford Blue Advantage! Each Ford Blue Advantage vehicle features a limited warranty, multi-point inspection, 24/7 roadside assistance, and FordPass™ Rewards Points.
We're Here For You
Oxmoor Ford Lincoln always puts customers first!
Don't take our word for it: Read our reviews and see what everyone is saying.
The service advisor and technician worked really hard to get me my car back by the end of day on a Friday. Thank you!
service person was very helpful knew his job and did it well should have more like him.
Steve Whittaker did a fantastic job in selling my Granddaughter her first new car! He was very patience and knowledgeable as well, very courteous and attentive to out needs. Steve made the process of buying a new car seamless and pleasant. I would highly recommend Steve Whittaker to anyone who is seeking to buy a new car! Great Job Steve and Oxmoor Automotive Group - Ford Best, Glen J
I've been using oxmoor ford /Lincoln for about 10 years. They've always taken care of me. In fact the one time they weekend, the gave a free set of tires ($1200! To apologize for it
Excellent transaction. We went in to find a car, planning to make the purchase the following week. The dealer's staff was persistent to get a deal done, but they were very nice about it and not at all pushy (but they did want to close the deal). We're happy with the car, our trade-in, and the price. We took our other Ford truck to Oxmoor for service a few months ago (we didn't buy it there). I was so happy with the service that I wanted to keep them in mind when we looked for a new vehicle. And here we are! Thanks to the great sales staff for their advice and help.
Great team. Amazing.sales support. I ordered a new vehicle and they took care of everything. Finally time for my first.service visit. Smooth and easy and didn't take too long!
I came in after a rough start to my recent experience with Neil Huffman. Their service department was going to charge me $289 for a HID headlamp! I called the service department at Oxmoor Ford to get a second opinion. Not only was Neil Huffman's service person overcharging me, he was wrong with the type of bulb I needed, which was a $28 halogen! After deciding to obviously choose Oxmoor Ford, I was pleasantly surprised to learn that I didn't need a bulb at all...the bulb and casing was simply loose and I wasn't charged a penny! My new buddy is Kanyon Martin in service and my new dealership is Oxmoor Ford!
I have always taken my cars to Oxmoor Ford. They have always treated my vehicles with the utmost care. I highly recommend them. Today, my service advisor Josh was great! I wish I could give more than 5 stars! Thank you Josh!
Very nice people, took great care of my car. Checked everything. Very nice people! I thanked them when I left
Thanks to Omar's keeping an eye open, I now have a new Navigator. Thanks for all your help Omar.
Every time I go there for service, the staff is so nice a friendly. All are very knowledgeable.
Very customer friendly. They don't quit until they solve the issue for the customer.
My experience at Oxmoor Ford could not have been more pleasant. Having purchased many, many vehicles over the years from other dealerships, I can unequivocally say this was by far the best experience. The dealership was easily accessible from the interstate and they had a vast selection. I had called to verify the availability of a Bronco Sport Badlands that I saw on their website. Upon arrival, they had pulled it right up front to have it ready. I walked inside with my family and was greeted by Keith. From start to finish, Keith made our experience second to none. By the time we finished purchasing the vehicle, Keith felt like an old friend. He definitely earned my business and made the process seamless.
John Soffie, my salesman was very knowledgeable, interested in helping me and was the main reason I purchased from Oxmoor. The showroom was clean al. persons friendly. I will go back and recommend to others
Very efficient and listen to what I needed. Only waited about an hour before I was done. Even got a Christmas bonus I used my points to pay for my bill which was close to 200.00. I was very happy!
Steve Whitaker is the man he and the entire staff were very helpful..ill be back again!
Very nice people. Great sales person. Would recommend! Alexis my sales person was helpful in all my needs.
Great help very helpful answers a y question that I had very satisfied with my service advisor
Thy did a oil change and topped the water and oil and window wash and rotors the ties
Prompt scheduling and service, bad battery detected which will save future inconvenience when the car won't start
On time and got me back out in about an hour. Even washed the car!
They got my car in and out on time. They even washed my car for me.
We had a great experience with Darrel. He was very professional and willing to help us get our best deal!
Josh was very nice and professional. Fast service and it took half the estimated time on my recall.
The service department was professional, courteous, and took half the estimated time to perform the recall repair.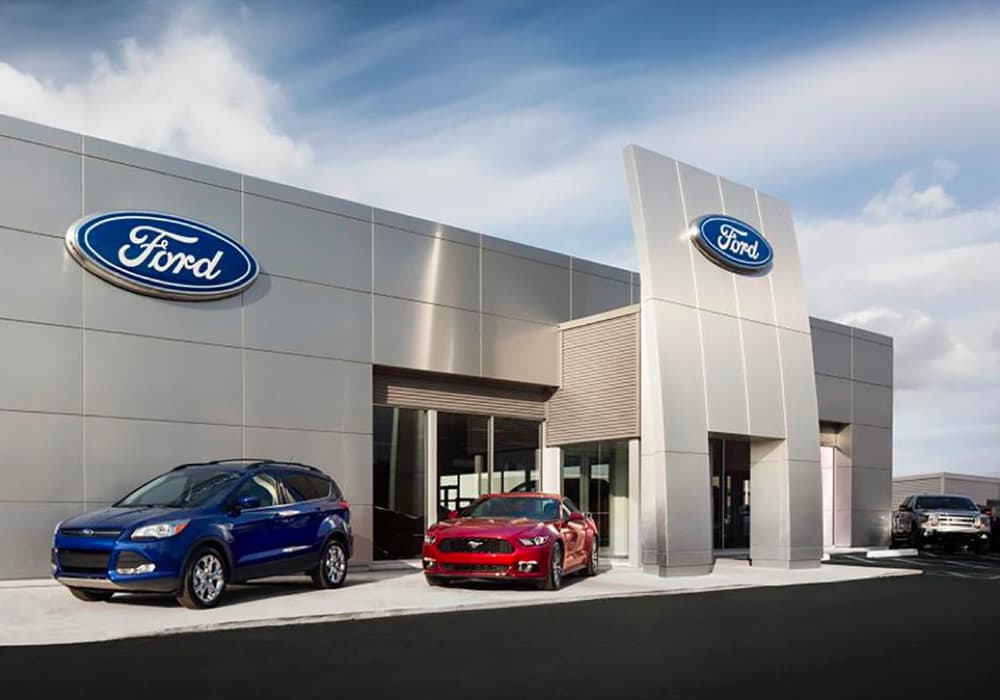 Get Directions To Our Dealership
Welcome to Oxmoor Ford Lincoln
When you choose this dealership, you choose a lifelong partnership with your dealer. We are committed to helping you find the right vehicle for you as well as preserving the performance, safety, reliability, and long-term value of your vehicle purchase. You can count on this dealership for an opulent service experience from the moment you enter our showroom. Visit us today at our address — our seasoned professionals are ready to answer any questions you may have.
This dealership strives to provide the best vehicles and service possible to the dealership area. Or experienced sales and service staff is available to help you find and maintain your next vehicle. Visit our showroom today and let us help you find your dream vehicle!
Contact Us