100% Online Experience
Shop Our
Express Store
Instant Pricing - No Hassle - Build Your Deal Online
Take Advantage of This Month's Current Offers
Ford Blue Advantage: Confidence at Every Turn
Experience the benefits of Ford Blue Advantage! Each Ford Blue Advantage vehicle features a limited warranty, multi-point inspection, 24/7 roadside assistance, and FordPass™ Rewards Points.
We're Here For You
Oxmoor Ford Lincoln always puts customers first!
Don't take our word for it: Read our reviews and see what everyone is saying.
Bought a new car and couldn't be happier by the way I was treated. Salesman Doug Kimmons was amazing! Great process and I will definitely be back
Car buying nowadays is such an interesting experience! I'm from Ohio and found the car I wanted in Louisville, at Oxmoor. Caitlin was extremely helpful, kind and courteous! She really went above and beyond to help me along the purchase experience! Rob made all the finishing details go as smoothly as I've ever experienced! With everything done virtually over email and/or text, I was literally in and out of there in 30 minutes - new-to me car on the road to happy! I'd make the trip again to purchase from Oxmoor!
Great experience. Sales team was helpful and easy to work with. Very satisfied with the price and service - love the new Bronco Sport. Thanks Cody.
Great salesman to work with. Purchase went very smooth Dealership was neat and clean. Displays were well positioned.
Very good to work with. Been searching for a vehicle for a while and finally found the deal we wanted here. Alexis was great to work with and I'd highly recommend not only him but this dealership.
The person that I talked with was very professional. If I lived in Louisville or we're still looking for a car I would love to visit this dealership. I purchased a new car at another dealership in another state.
Mr Clint was a very knowable man! Served my every needs! I would definitely recommend Oxford to my.friends! Very helpful getting my car back home! I would difficulty record Oxmoor to my friends.
Quick and effortless, in and out of the dealership without a hitch and got what was promised. They were easy to work with and a pleasure doing business with.
This is the premier dealership in Kentucky. Our salesman Safi is the most informed and professional salesman ever. I have sent friends and family to them over the last decade. Probably close to 100 cars and trucks that all of us have bought there. All personal vehicles. Never 1 complaint. They are the best.
Steve was awesome to work with. He was very helpful. Will use dealership for all my future needs
Doug Kimmons is an excellent sales person. His personality and experience makes buying or leasing a car very enjoyable. He answers all questions honestly and gives the buyer confidence making a decision for the vehicle that is best for them. Doug is a outstanding rep for Oxmoor & Ford Motor Co.
Over the years we have bought 4 cars from oxmoore ford. We have been very pleased with their salesmen and service. This time we had John as our salesman. Don't know his last name but he was extremely helpful and had a cheerful personality. I would ask for him again if I were buying another car. Barbara Schroader
Dealer helped me out tremendously!Very professional and neat!!Courteous helping me find the vehicle that I've always wanted as a Retirement gift!!😊Thank You All!!!All the Dealers with a smile and willing to help!!At Oxmoor Ford Lincoln!!Thanks Again!!!!!!
Ray was great! From start to finish just 2 hrs. No hassle buying experience. Test to finance to drive away was painless , would recommend to anyone
They are extremely professional, courteous, they go out of their way to ensure customer satisfaction. The facility is immaculate, the entire process took less than 2 hours
George Oaks and Holly Goodman worked with me to get a new to me car. Very good service. Highly recommended if you are in the Louisville area.
I've bought a few cars in my life, but working with Oxmoor Ford and Aaron Knotts was very respectful and wonderful to work with.
found what I was looking for and purchased it. Very easy to deal with the sale people and the time spent was not to long.
The process of buying a car with Oxmoor Auto Group was unlike anything I've experienced in the past. I highly recommend this company! The process of negotiating the price and ultimately picking up my new vehicle was virtually stress free.
Great to work with, no high pressure sales. Made the purchasing process very easy and stress free. Would recommend Oxmoor Ford Lincoln to anyone looking for a new or used car.
Great dealership! Bought a car from Trey that ended up not having heat in it, fixed it for free and put me in a car while they fixed it! Bought as is and they definitely didn't have to do this for me! If you're looking for a car ask for Trey smith !:)
Nicest employees. They are all extremely helpful and knowledgeable about their vehicles. They are eager to work with you and help you find what you want.
My salesman was excellent. The buying process was quick. They made me a good offer on my trade. Lincoln Aviator has all the features I wanted.
My wife and I had an excellent experience. Chip , ( our salesman ) was down to earth, new his job and worked with us on the value of 2 cars being traded in. On top of that our finance manager was really productive and on his game. I believe we have purchased 6 cars from Oxford Ford and will continue in the future. I refer customers on a regular basis because the No Pressure approach. Thanks
Terrific customer service. Seth did a great job explaining the differences in F150 models and facilitating test drives as well as conducting the sales process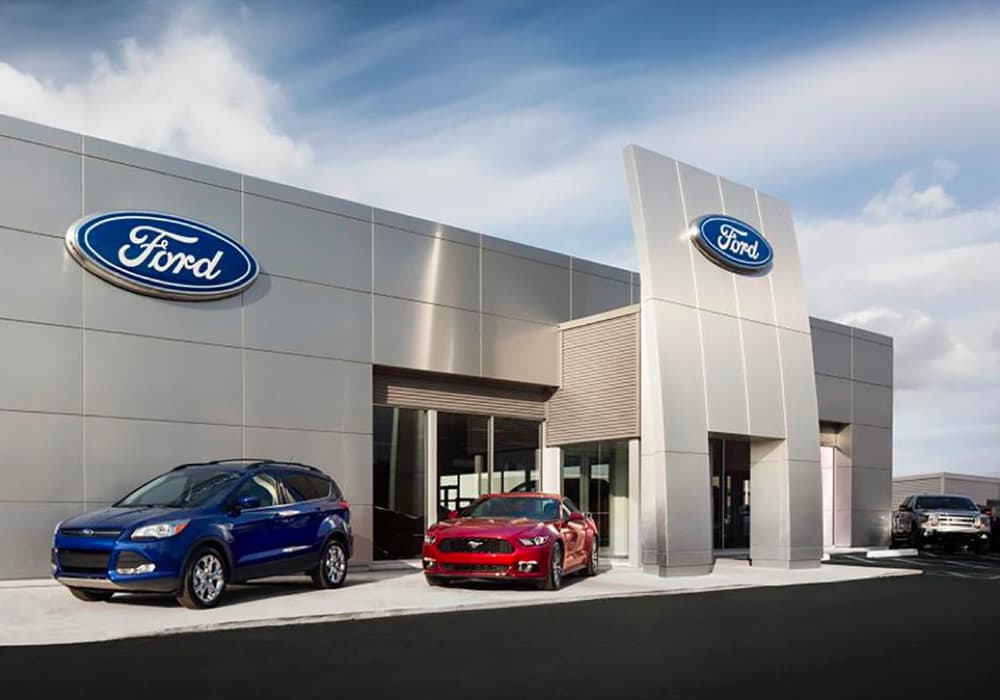 Get Directions To Our Dealership
Welcome to Oxmoor Ford Lincoln
When you choose this dealership, you choose a lifelong partnership with your dealer. We are committed to helping you find the right vehicle for you as well as preserving the performance, safety, reliability, and long-term value of your vehicle purchase. You can count on this dealership for an opulent service experience from the moment you enter our showroom. Visit us today at our address — our seasoned professionals are ready to answer any questions you may have.
This dealership strives to provide the best vehicles and service possible to the dealership area. Or experienced sales and service staff is available to help you find and maintain your next vehicle. Visit our showroom today and let us help you find your dream vehicle!
Contact Us